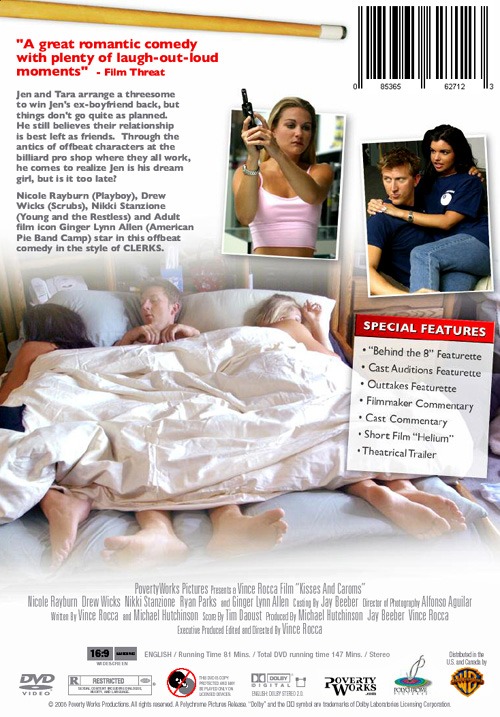 "Crackling with strong performances, this sexy
little day-in-the-lifer is worth your time."
- Kevin Smith aka "Silent Bob" (Clerks, Dogma, Chasing Amy)
"A great romantic comedy with
plenty of laugh-out-loud moments"
- Amanda Reyes, Film Threat
"The movie's a sexy, funny, insightful,
gleefully rated R flick"
- Joshua Tyler, Cinema Blend
---
Own it on DVD
---
Jen and Tara arrange a threesome to win Jen's ex-boyfriend back, but things don't go quite as planned. He still believes their relationship is best left as friends. Through the antics of offbeat characters at the billiard pro shop where they all work, he comes to realize Jen is his dream girl, but is it too late?
Nicole Rayburn (Playboy), Drew Wicks (Scrubs), Nikki Stanzione (Young and the Restless) and Adult film icon Ginger Lynn Allen (American Pie Band Camp) star in this offbeat comedy in the style of CLERKS.


DVD SPECIAL FEATURES
Over 5 hours of Bonus Material

---
-"Behind the 8" Featurette
-Cast Auditions Featurette
-Outtakes Featurette
-Audio Commentary with Producers Michael Hutchinson, Jay Beeber and Director/Writer/Producer Vince Rocca
-Audio Commentary with Nicole Rayburn, Drew Wicks, Nikki Stanzione, Ryan Parks and Vince Rocca
-Short Film "Helium"
-Theatrical Trailer
-Original Aspect Ratio Anamorphic 1.78, 16:9 Widescreen
Rated R for sexual content including dialogue, nudity and language.
Feature Runtime: 81 minutes
DVD Runtime: 303 minutes
PovertyWorks Pictures Presents a Vince Rocca Film "Kisses And Caroms"
Nicole Rayburn Drew Wicks Nikki Stanzione Ryan Parks and Ginger Lynn Allen
Casting By Jay Beeber Director of Photography Alfonso Aguilar
Written By Vince Rocca and Michael Hutchinson Score By Tim Daoust
Produced By Michael Hutchinson Jay Beeber Vince Rocca
Executive Produced, Edited and Directed By Vince Rocca

---
Get it Now
---